The "Pikmin Bloom Tour" is an event that provides players of the popular mobile game "Pikmin Bloom" with the opportunity to enjoy a walking event with Pikmin in specific locations. During this event, you can explore various charms of the city, visit beautiful natural landscapes and tourist attractions, and enjoy activities such as dining, shopping, and art appreciation.
Pikmin Bloom Tour 2023: Kyoto (Okazaki Area)
In the autumn of 2023, the long-awaited Pikmin Bloom Tour will be held in the Okazaki area of Kyoto! This walking event offers a perfect opportunity to explore a city filled with beautiful nature and fun, all while playing with adorable Pikmin.
In this article, we will introduce "Pikmin Bloom Tour 2023: Kyoto (Okazaki Area)" in detail.
Pikmin Bloom Tour Halloween Season
"Pikmin Bloom Tour 2023: Kyoto (Okazaki Area)" is the third event held in specific areas, with Kyoto's Okazaki area as the backdrop. This event is free for selected participants chosen through a lottery, allowing you to enjoy "Pikmin Bloom" while taking in the vibrant autumn foliage and the scenery of the Lake Biwa Canal.
Event Dates and Location
Pikmin Bloom Tour 2023: Kyoto (Okazaki Area) will take place on November 12, 2023 (Sunday). The venue is the Okazaki area of Kyoto, known for its stunning autumn foliage and Lake Biwa Canal views.
Event Schedule
The event will be held within the app from 8:00 AM to 8:00 PM. The gift distribution at "Miyakomesse" will run from 10:00 AM to 6:00 PM, with the doors opening at 9:30 AM.
When planning to enjoy the event, it's recommended to allow some extra time!
Ways to Enjoy the Walk Exploring Special Spots
During the event, play Pikmin Bloom while visiting special spots. Pikmin will gather around you and join in the fun adventures. You can simultaneously enjoy the beauty of the scenery and the excitement of the game.
Walking Distance
Visiting all the special spots will cover a distance of about 6 kilometers. Enjoy this moderate exercise and interact with the Pikmin as you walk this distance.
Gifts and Tickets Gifts
Participants with tickets will receive wonderful gifts, including an event map, Pikmin paper sun visor, paper wristbands, and more. These items will serve as great souvenirs to commemorate the event.
Commemorative Deco Pikmin and Badge
By completing challenges, you can earn fantastic clear rewards. After completing the challenges, you can obtain the red and yellow "Present Seals (Gold)" Deco Pikmin and "Gold Saplings."
These Deco Pikmin add a touch of charm to the cute Pikmin and serve as special mementos of the event. You'll also receive a commemorative badge for participating in the event. It's a wonderful keepsake.
Exclusive Mii Costumes for Pikmin Bloom Tour
During the event, ticket holders can acquire special Mii costumes in the in-app shop.
KYOTO-exclusive Tour T-shirt Pikmin Sun Visor (Red, Yellow, Blue set)
These items are exclusive to participants of "Pikmin Bloom Tour 2023: Kyoto" and make for fantastic costumes to make the event even more special.
How to Get the Costumes
These special Mii costumes are available only to ticket holders. Participants who have tickets can purchase the costumes from the in-app shop.
As part of the event, getting these costumes will enhance your enjoyment of the walk during "Pikmin Bloom Tour 2023: Kyoto"!
Ticket Acquisition
Participation is free, but only those selected through a lottery can attend.
The lottery application period is from October 4, 2023, to October 8, 2023.
The announcement of winners will be made on October 9, 2023, and winners will be notified through a winner notification email. Winners must follow the instructions in the email and apply for tickets within 48 hours.
Rules and Etiquette
When enjoying the event in Kyoto, it's important to be considerate of the local culture and environment. Adhering to the Kyoto Tourism Morals for Tourists is essential. Have a great time while respecting the local rules.
Regarding Photography
During the event, photos and videos may be taken. Please be aware that these contents may be used on Niantic and Nintendo Co., Ltd.'s websites and social media.
In Summary
"Pikmin Bloom Tour 2023: Kyoto (Okazaki Area)" is a fantastic opportunity to experience the world of Pikmin while walking. With beautiful scenery, wonderful gifts, and interactions with Pikmin, be sure to participate in this event. Don't forget to apply for the lottery!
Event Location: Okazaki Area, Kyoto Gift Distribution Location: Miyakomesse, 1st Floor, 2nd Exhibition Hall AB Side Event Date: November 12, 2023 (Sunday) Event Hours: 8:00 AM – 8:00 PM (In-App) Gift Distribution Hours: 10:00 AM – 6:00 PM (Doors open at 9:30 AM) Estimated Walking Distance: Approximately 6 kilometers when visiting all special spots.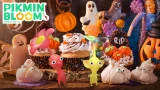 Join the Pikmin Bloom Halloween Adventure! Discover Special Rewards and Adorable Costumes.
Target the Giant Mushrooms in the Halloween Event for a Limited Time! What's the Seasonal Flower Extract You Can Get in One Hit?